On occasions where our regular accompanists have been unavailable, Sophie Aynsley has kindly stepped in as our pianist.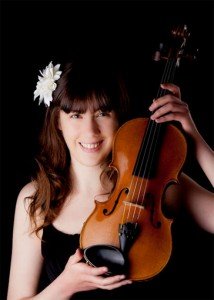 Sophie started playing for us in October 2012 and says that so far, she is enjoying the experience. We certainly are enjoying her playing and friendly nature and welcome her into our choir.
Sophie lives near Romsey and started playing piano when she was 8 years old. She achieved her DipABRSM Diploma in piano performance in 2010 and in 2011 graduated with a 2:1 degree in Music from Royal Holloway, University of London, where she specialised in performance and composition.
Sophie has always enjoyed accompanying.
As well as the New Music Makers, she currently accompanies the Richard Taunton Sixth Form College Community Choir and also regularly accompanies soloists in concerts and recitals. Sophie's musical talent also includes playing the violin and she enjoys playing in orchestras and chamber groups, including a string quartet.